Do I need a travel adapter for a trip to Togo?
Yes, you need a travel adapter (plug adapter) for a trip from the United States to Togo. In Togo, people are using different plugs and electrical outlets that are not compatible with plugs from the United States!
About Togo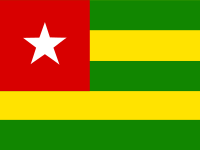 Togo is a country in Africa (Western Africa) with about 7.6 Millionen inhabitants on an area of almost 57 000 km². The capital of Togo is Lomé (750 000 inhabitants).
People in the country are mainly speaking French, Ewe, Danish and Hausa.
The neighbors of Togo are Benin, Burkina Faso and Ghana.
TLD: .tg
Currency: XOF
Country calling code: +228
Country Code : TG