Do I need a travel adapter for a trip to Ireland?
No, you do not need a travel adapter (plug adapter) for a trip from the United Kingdom to Ireland. In Ireland, people are using the same plugs and plug sockets as in the United Kingdom.
About Ireland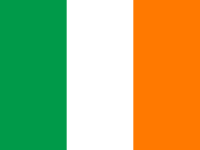 Ireland is a country in Europe (Northern Europe) with about 4.9 Millionen inhabitants on an area of almost 70 000 km². The capital of Ireland is Dublin (1 Millionen inhabitants).
People in the country are mainly speaking English and Irish.
The only neighbor of Ireland is the United Kingdom.
TLD: .ie
Currency: EUR
Country calling code: +353
Country Code : IE